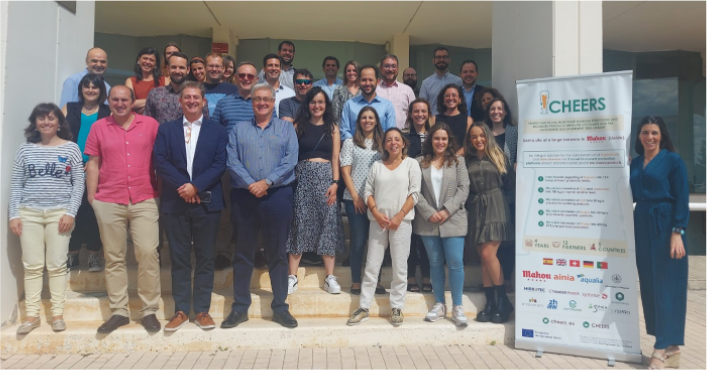 On September 29th and 30th, Thunder Foods was at the kick-off meeting of a new European project called CHEERS which took place in Valencia, Spain.
The meeting was held at the facilities of AINIA, a specialised technology centre with more than 35 years of experience in R&D&I in the agri-food sector. On this occasion, the consortium met in person and virtually to discuss the objectives of the first year of the project while preliminary actions for the coming months were established.
The Mahou San Miguel brewing company is coordinator and operational leader of the European CHEERS project, which will contribute to develop a new zero waste biorefinery approach, fully aligned with the European Green Deal, the Circular Economy Action Plan, and the Bioeconomy Strategy among others, thus fostering the understanding of the potential of biotechnology in the generation of new value chains thanks to the participation of relevant actors, from small bio-based industries to consumers.
Biotechnology is a tool with the potential to reduce the impact of human activities on our planet. Thanks to the development of new bio-based production platforms, it is possible to take a step towards a more efficient use of waste streams in order to achieve industrial circularity.
CHEERS is a new biorefinery concept, inspired by nature's biodiversity (insect and microbial platforms) with the objective of revalorising underutilised or waste secondary streams such as bagasse, wastewater, CO2 and CH4 from the brewing industry for conversion into innovative bio-based products that are competitive at market level.
The bioconversion and cascading of biomass from secondary streams offered by CHEERS is intended to be a starting point for other fermentation industries to improve feedstock efficiency, sustainability, and their overall competitiveness.
CHEERS offers a modular solution where bio-based industries can configure their optimal combination by selecting from 5 novel biotechnological routes that generate 5 bioproducts for industrial applications, with attractive market opportunities: insect protein, disinfectant, microbial protein, ectoine and caproic acid. All CHEERS value chains are based on new bioprocesses and innovative biofermenters combined with sustainable transformation processes, which will be validated at a demonstration scale in an industrial brewery. Ultimately, each value chain will achieve a minimum 45% reduction of the carbon footprint.
The project will last a total of 48 months, with a start date of 1 September 2022 and an end date of 31 August 2026